Partners-Only Seminars on Monday!
For four weeks at a time we work on calibration, collaboration, and creativity. To keep growing in Tango requires practice and an excitement to keep learning. Come train with us!
Partners only. Spaces limited. Let us know if you need help finding someone to work with for the classes, and please tell us who your partner is when you register.
If you are on the fence ASK AROUND! We stand by our product and aim to give an exceptional experience to all participants.
Mondays from 8:00PM – 9:30PM.
Cost: $80
Location: Vision Yoga (NightVision!) 1861 W 25th St.
Each class will run a full 90 minutes. 6 hours of class total. Please be on time.
Pre-Registration is required!
Please confirm with us by paying through the Paypal button below or in person at one of our events. If you have any questions please email alberto@clevelandtango.com or call (216) 235-2163.
---
Mica's Technique Workshops!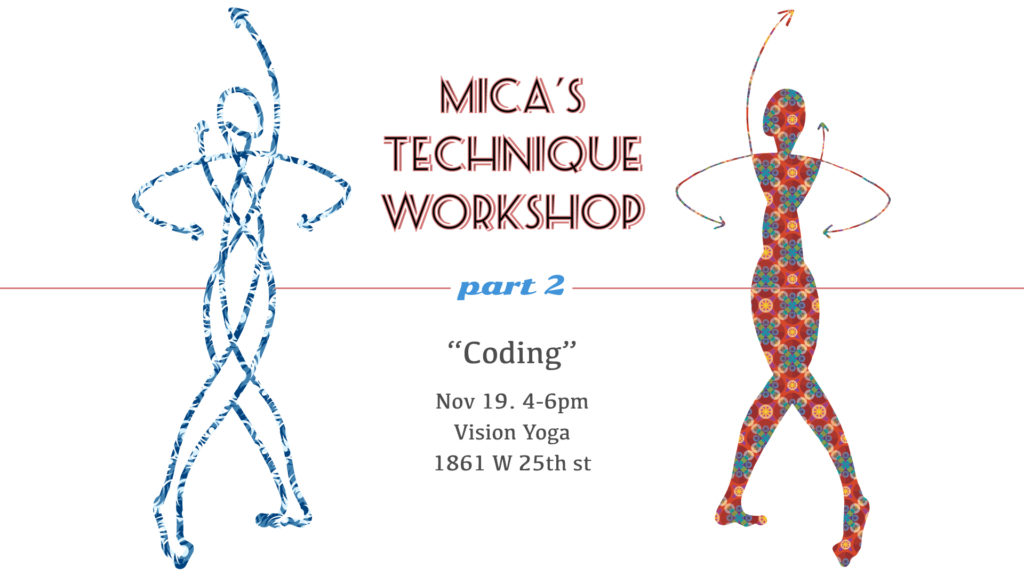 Two hours of dedicated practice to strengthen & understand our bodies better. These workshops will help to clarify some foundational concepts as well as physically exercise certain key muscles. So come in comfortable clothing and bring a willingness to explore!
Saturday, Nov. 19 from 4:00PM – 6:00PM.
Cost: $30
Location: Vision Yoga 1861 W 25th St.
Please register with us by paying through the Paypal button below or in person at one of our events. Email info@clevelandtango.com with any questions.
---
Past Seminars
Take a look at what we've covered in the past. And we are always open to suggestions, so feel free to contact us if you have an idea or long to revisit a particular topic.
April 2016: Calibration
April's seminar was our first partners-only format! We explored the topics of technique and musicality within the framework of deep and lasting practice.
February 2016: Sacadas
Sacadas for both roles! One of the primary building blocks of complex figures, a well executed sacada opens the door to an entire world of possibilities. In this seminar we dove into the construction & nuances of both executing and receiving sacadas. Backwards, forwards, leader-follower and follower-leader.
January 2016: Adornos
Embellishments for men and women, we covered the difference between legato and staccato styling as well as how to best fit these elements in with the music.
November 2015: Dominating the Cross
One of the most intrinsic "moves" in Tango, switching from cross system to parallel can expand your repertoire and open up new worlds to explore. Mastering these systems  can help you level up your Tango game immeasurably.
October 2015: Salon Bootcamp
For our fourth thematic seminar we took a step back and returned to the roots of tango salon. With techniques straight from Villa Urquiza we worked with students to create a more powerful walk, cleaner figures and tighter turns. Also covered were some of the small tips, tricks and corrections that make for a strong, connected, and elegant partnership.
August 2015: ¡Milonga!
In our third thematic seminar we switched things up to explore Milonga. The focus was on easily accessible steps, concepts and rhythms to move your game forward. These four weeks were intended to help get people over their fear of the seemingly fast-paced music and more comfortable out on the floor.
July 2015: Interpreting Biagi
A Biagi tanda is serious business. Unique rhythms. Uncommon elements. It's a musical mountain to summit. In our second thematic seminar, we looked at the music of Biagi and explored the elements that make his compositions unique.
June 2015: Tango Turns: Milonguero v. Salon
This thematic seminar was an exploration and analysis of the giro (turn). Over the course of four sessions we looked at the technique, the musicality, and the interpretational nuances of the turn in tango from two principal styles. Milonguero and Salon. Students learned how to lead/follow a variety of figures through which we studied the rhythmic structures of the turn and when/where to put the turn into our dance.