Tango instruction is a pretty new profession, and one that's still finding its sea legs. For those of you who know us, Alberto and I (Micaela, hi!) decided years ago to commit ourselves to a life of art and, in particular, the art that is this dance. Many friends and strangers have voiced curiosity or confusion about how we manage to sustain ourselves and the truth is… it's certainly not easy.
But it feels worthwhile. And I wouldn't rather be doing anything else.
So now that we've had a chance to settle into Cleveland a bit, run around the region getting to know the neighbors, and work on growing our own selves as artists, we're planning for the future. And as people find value in the work and dedication that we provide through this school, we'd like to start offering more ways to help get folks involved with tango at large.
Enter: the Cleveland Tango School Teacher Training Program! (CTSTTP)
..okay I'll think of a better name..
Long story short, maybe you want to pursue tango as a career or a side gig, but perhaps you're not sure where to start. Or maybe it's performance, choreography, organizing events, or just a deeper practice that interests you. Together we can achieve your tangoals!
(cue inspirational music)
Applications are accepted and reviewed on a rolling basis. Please email info@clevelandtango.com with a note about your interest in the program and a bit about your current situation. All participants will be considered individually for lesson plans and work opportunities tailored to meet their specific needs.
Meet Our New Recruit!
We first met Eric Andrew Gingerich in Toledo, OH during one of our Bacchanalias de Tango. He was present and curious and eager to engage. Since then we've seen him in Chicago and here in Cleveland for the marathon. He has weathered a broken toe, a broken heart, and all sorts of paperwork to pack up his things and hit the road.
I was first introduced to Argentine tango in Seoul, South Korea, several years ago in my alternate life as an English language teacher. I had tried my hand—hips, legs, and feet rather—at salsa and was…not great at it. Sometime after many embarrassing attempts to get better at Latin dancing, I found myself in a tango studio.

The way the couple walked together, as if gliding through a field on a summer night, hooked me right away. Many years, job changes, and country-hops later, and tango still hasn't left my bones. It's a powerful and meaningful way to connect to your fellow human, and that is what keeps me coming back.
Eric will be staying with us for the month of November to train, study, and enjoy the company of the Cleveland Tango community. We look forward to working with him and hope you come out to say hi:)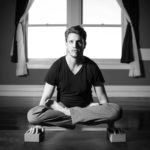 ---